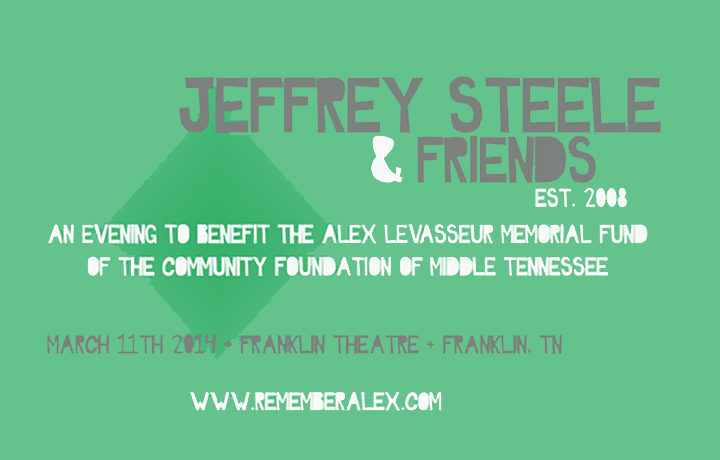 Date: January 7, 2014
posted by cropper
/

Comments: No Comments

/

Tags: There is no tags

On March 11, 2014, Steve will join a stellar cast of artists, songwriters and musicians in a benefit concert at The Franklin Theater in Franklin, TN. The Alex LeVasseur Memorial Fund presents the 7th Annual Jeffrey Steele & Friends, an intimate evening with Jeffrey Steele, LoCash Cowboys, Chris Janson, The Shuggah Pies and other artists to be named soon.

Proceeds benefit the Alex LeVasseur Memorial Fund of The Community Foundation of Middle Tennessee, helping overlooked and underprivileged youth by motivating them in school and in life. Jeffrey Steele and family created the Alex LeVasseur Memorial Fund at The Community Foundation of Middle Tennessee after Steele's 13-year-old son passed away January 28, 2007 in a tragic accident. Steele and his family are very involved with this program, which has already made a significant impact on its participants.

A portion of the evening's proceeds will benefit The Beat of Life, an organization that provides therapeutic music programs to human/social service organizations and populations in need throughout Nashville that cannot otherwise afford it through the mobilization of Nashville's talent and resources. The event will also feature a live auction.